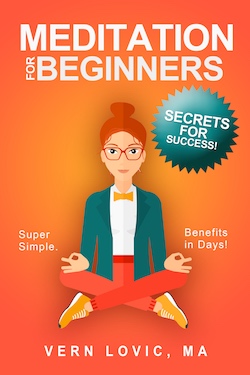 (Click HERE to Order)

It has been a few months in editing, but finally "Meditation for Beginners – Secrets for Success" digital book is ready for release. Just click the book cover above or order button below to order the PDF version directly through Paypal. You can be reading this latest meditation book within minutes on your mobile phone, e-reader, or computer.
TABLE OF CONTENTS
Acknowledgments
Forward
Who is this Book For?
The Problem with Meditation
What is Your Teaching Approach?
Problems in How Meditation is Usually Taught
Putting the Cart Before the Horse
Why "Secrets For Success?"
Backward
Chapter 1 – Why Meditate?
What is the Fruit of Meditation?
What Can You Expect?
Chapter 2 – The Three Essentials
Focusing on the Breath
Letting Go
Mindfulness of the Present Moment
Chapter 3 – The Breath
Why Does Meditation Practice Involve Focusing on the Breath?
Qualities of the Breath
How to Watch the Breath During Meditation?
Another Issue
What is the Goal?
What Happens Next?
Chapter 4 – Letting Go
Before You Meditate
As You Meditate
Letting Go During the Day
Before You Sleep
Chapter 5 – Mindfulness of the Present
What is Mindfulness?
Concentration in Mindfulness Vs. Concentration in Meditation
Inside The Process
How to Practice Mindfulness?
How Long Can Mindfulness Persist?
Is Mindfulness for Long Periods of Time Easy for Most People?
Eating in Mindfulness
Mental Health Benefits of Mindfulness Practice
Mindfulness Is Always With You
Why is Mindfulness So Important?
How Did You Go About Learning Mindfulness?
Chapter 6 – Possible Mind Experiences
Normal Experiences During Meditation
Experiences to Avoid During Meditation
Experiences Outside of Meditation
Chapter 7 – Jhana
Chapter 8 – Jhana 1, 2, 3
How Does Jhana 1 Begin?
What Is Jhana 1 Like?
Jhana 2
Jhana 3
Chapter 9 – Jhana 4 and Abhinna
Jhana 4
Abhinna
Mind Penetrating Knowledge
Chapter 10 – Jhana 5, 6, 7, 8
Jhana 5
Jhana 6
Jhana 7
Jhana 8
Chapter 11 – Forget About It!
Chapter 12 – The Incidentals
Sitting
Environment
Clothing
Sitting Posture
Your Eyes?
Where to Meditate?
Listening to Music During Meditation?
Purifying Your Mind Before You're "Ready"?
Amulets and Other Superstitions
Practice Frequency / Schedule
Chapter 13 – A Simple Practice
Step 1 – Walking Meditation
Step 2 – Sitting
Step 3 – The Breath: Part 1
Step 4 – Observing the Mind
Step 5 – Observing the Body
Step 6 – Observing Pain and Discomfort
Step 7 – Observing Feelings
Step 8 – The Breath: Part 2
Timeline for a Simple Practice (Summary)
Chapter 14 – Experimentation
Opening Your Eyes
Observing Pain
Tickles or Itches
Chapter 15 – Tips and Tricks
Chapter 16 – Frequently Asked Questions About Meditation
Chapter 17 – Now What? Just Do It!
Afterward
See it now at Amazon >